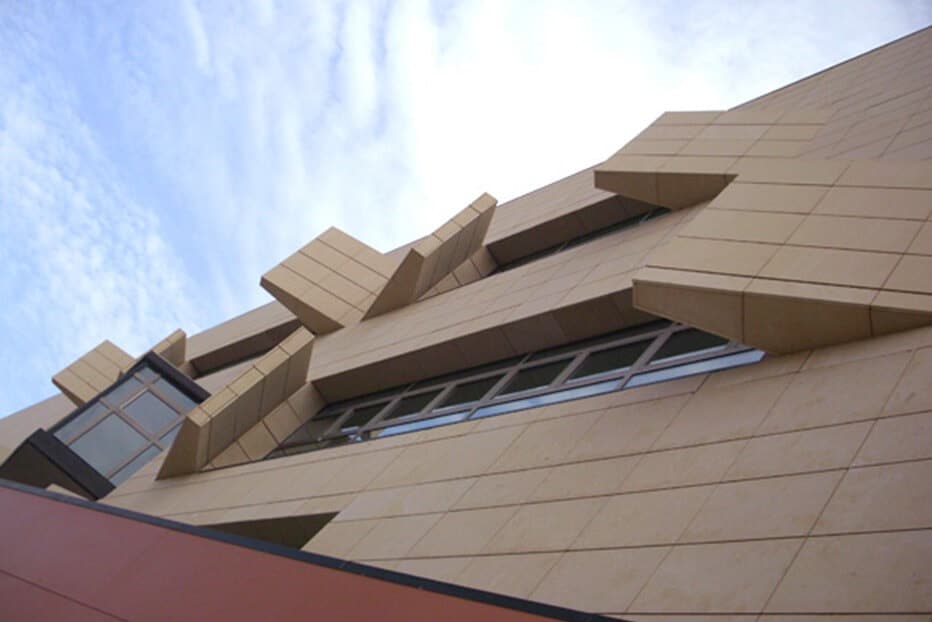 Stone Facades: Innovative, Sustainable and especially Natural
The natural stone has almost an endless catalogue of materials of all types. Granite, gneiss, marble, sandstone, etc., allow to be used in any kind of facades, from those with more innovative designs that might seem "imposible" to make, to the more traditional and classic ones.
This huge variety of references helps our buildings to show the most "diverse skins", enhanced thanks to all types of finishes: Rough, smooth, engraved, shiny, matte, natural, etc.
However, the decision about decorating or cladding a facade with Natural Stone is not only a matter of design or aesthetic. Whether it would be a first issue to consider, we should take into account also some other very important advantages such as:
Main advantages of using Natural Stone for facades
1. Sustainability
During the extraction and elaboration of Natural Stone, is not carried out any industrial processing. In both cases, all tasks and stages are made through simple and non-polluting processes.
In addition, more and more Stone companies are introducing latest and state-of-the-art machineries. That means a fewer energy cost and a very low level of emissions.
We are talking about one of the most recyclable and reusable materials that exist. Natural Stone besides to exceed the age of the buildings it can be reused for many other purposes.
Moreover its own advantages, whether we provide it with an extra functionality, we can achieve delightful results such as "the Pitagoras Building", located in the Science and Technology Park in Almeria (PITA), Spain.
Planned by Ferrer Architects, with the counsel of the Advance Technology Center or the Stone, Pitagoras Building is an example of innovation and sustainability in the Stone and Construction Sector. A bioclimatic system with a double facade has been developed, with an exterior sheeting of White Macael Marble.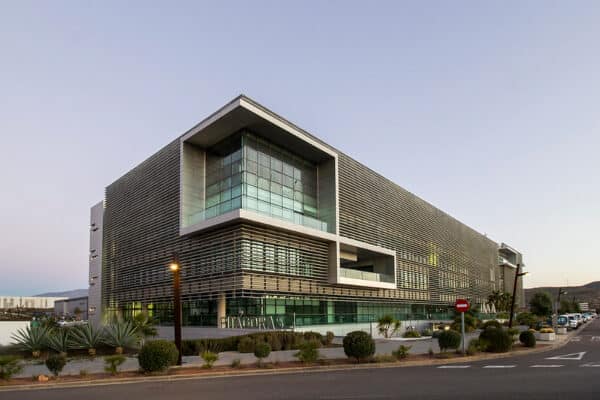 South Facades, Pitagoras Building, Almeria, Spain.
"Southeast and Southwest facades will be executed by  a glass panel facade, protected from solar radiation  by a horizontal slats of White Macael marble shield. This will turn out to be an innovative design that will light up the interior diffusely, without a direct sun incidence". By Alfonso Cortes, CTAP, for Diario Almeria. 29/03/2010.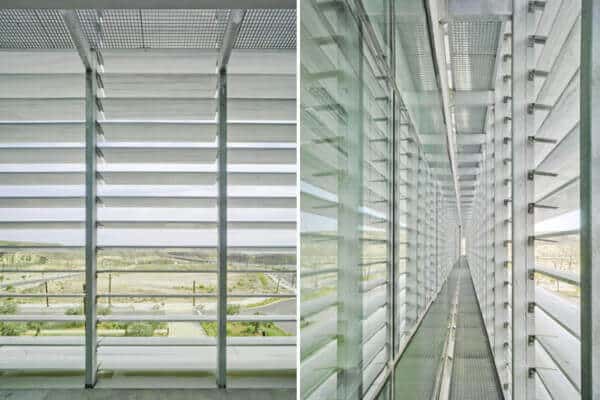 White Marble Shield Detail, Interior Pitagoras Building, PITA, Almeria. Photo by "Construible".
2. Natural

Stone facades

are an

excellent thermal and acoustic natural insulation

.
Due to its high density, stone facades guarantee a fabulous insulation in both ways.
It works as an exterior insulation, avoiding cold, heat, noises, etc. penetrating the building from outside.
On the other hand, it also avoids interior temperature loss.
If  in addition, we choose a "ventilated facade system" (sometimes we will not have another option, p.e. high buildings), we will intensify even more its insulating characteristics.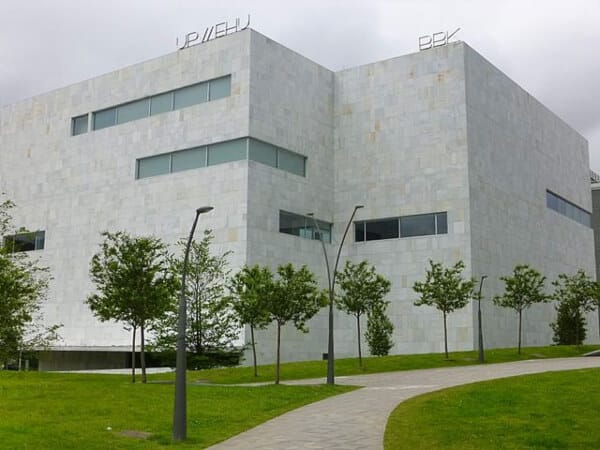 White Macael Marble. Auditorium of Basque Country University (UPV). Spain.
Álvaro Siza, Pritzker awards of architecture 1992, makes a  "sensitive but powerful design" of the Auditorium of the Basque Country University (UPV).   On top of an one floor rectangular base, two four floors prims arise joined and shape like a L". North and east facades, where the main access is located we find a ceramic cladding, while white  marble clads both rear sides. Siza highlights that "Both materials change, modifying their colour with the sun rays and clouds".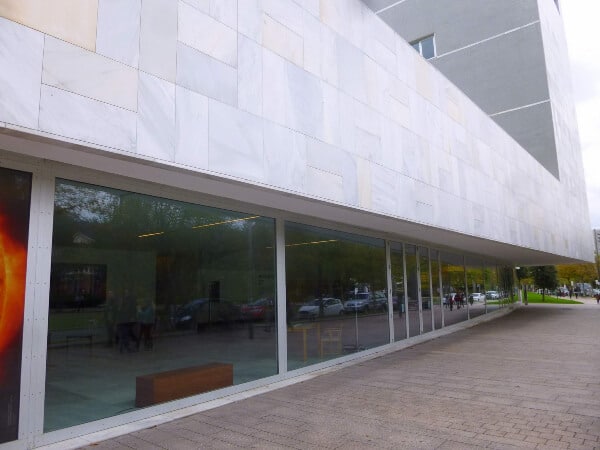 Detail of sizes, shapes and layout of white marble tiles in Auditorium facade.
UPV Basque Country. Spain
3. It is o

ne of the strongest natural materials to be used as cladding

facades.
It is known that not every kind of stone has the same resistance. Marble and granite are both the best dimension stones for cladding facades. Nevertheless, and as we have already mentioned, limestones, sandstones, and many other kinds of ornamental rocks with less toughness than them are absolutely good choices too .
We'd like to highlight that issues such as the geographic location and weather are key aspects to take into account. That is because depending on the geographic area, the building will be more affected by some agents than by others, (sunshine, ice, day-night temperature changes, etc.). Particularly, in Northern areas of the Iberian Peninsula, buildings are more affected by humidity than in the South, where the sunshine and UV effect are furthermore one of the main factors to pay attention to.
4. Versatility.
Natural Stone allows to implement from the most innovative designs as we have already shown to the most classic and traditional styles.
The huge variety of rocks from all over the World, plus the different finishes, sizes, format and elements able to be manufactured with natural stone turn into reality anything you want to perform with stone.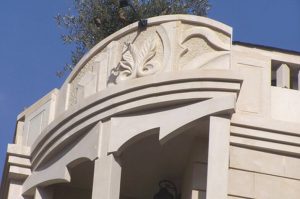 Classic facade detail. Viamonte Stone Private Building, Spain.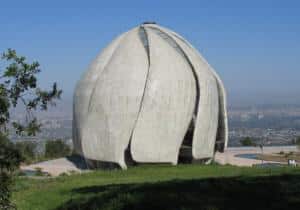 Innovative design of Bahai Temple in Chile. White and traslucent marble.
Some examples of different styles of stone facades
• GRANITE FACADES:
The composition and origin of granite make it one of the strongest ornamental rocks that exist with, in addition, a very low porosity.
An example of a granite facade with a simple design with great purity of lines, can be found at the University of Navarra. It has been carried out using the ventilated facade system (given the height of the building).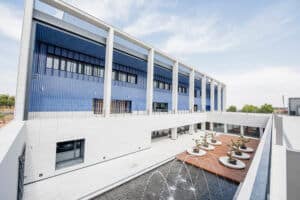 Front view main facade and patio with granite cladding. CC BY-ND 2.0. Author, Univ. of Navarra.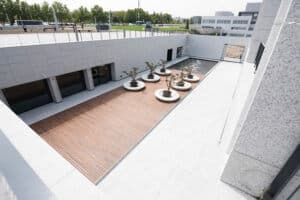 Facade and patio with granite cladding, detail. CC BY-ND 2.0. Author, Univ. of Navarra
• LIMESTONE FACADES
Limestones are a type of sedimentary rock formed predominantly by calcium carbonate with a small proportion of clay minerals, siderite and silica.  Sometimes they can present a variable amount of Magnesium (magnesite), called dolomitic limestones, up to the dolomites themselves.
Although they are sedimentary rocks, the limestones and dolomites are very resistant materials and absolutely suitable for facades, although given the wide range that exists on the market and its variability in terms of physical-mechanical characteristics and a bigger porosity than marbles and granites, it is always advisable to request and evaluate the physical-mechanical characteristics before deciding to install them on our facade.
Next we show some examples of facades with some kinds of Limestone.
→ Alba Limestone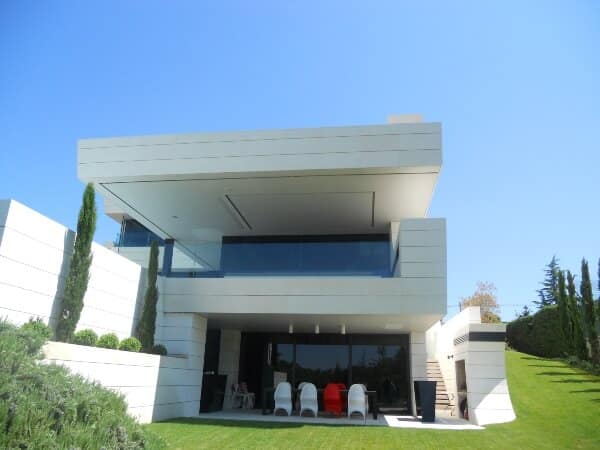 Alba limestone cladding. Private villa, Spain.
Ventilates Facace with Alba Limestone, Private Building, Spain.
Note:Photos of Caliza Alba by Mármoles Seller.
→ Capri Limestone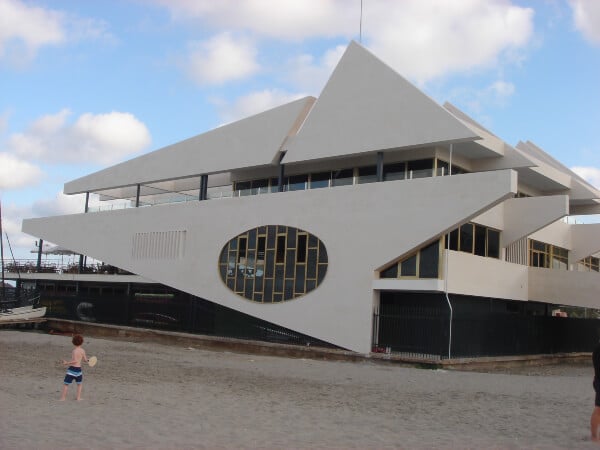 Nautical Club Facade, Capri Limestone, Spain
Note: Photos of Capri limestone by Mármoles Marín
→ Other varieties of limestone: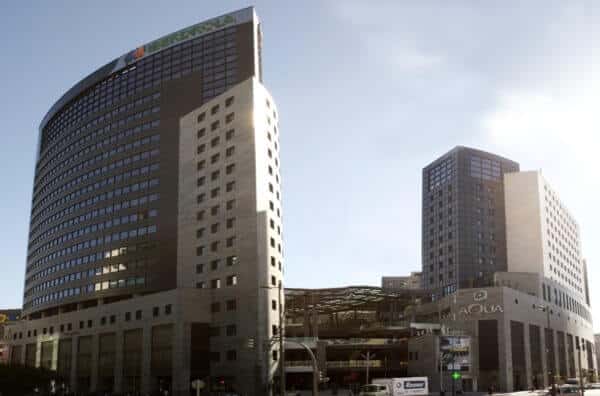 Ventilated facade of Lagos Blue and Branco do Mar limestones. Shopping Center. Spain
Note: Photos of Lagos Blue and Branco do Mar by Crumar Project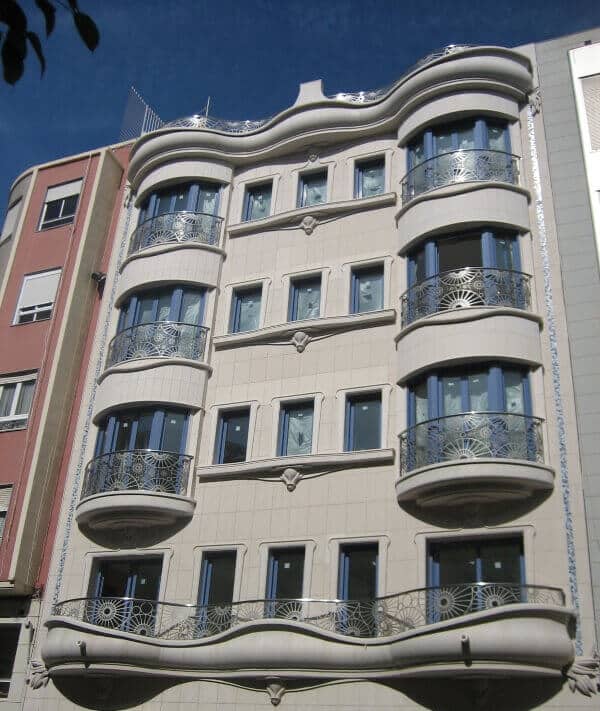 Ventilated facade of private building with White limestones, Spain
• MARBLE FACADES:
We call Marble to metamorphic rocks resulting from the metamorphism process of limestones. But  commercially, it is also called Marble to any ornamental stones that (even being  sedimentary rocks) that acquire shine after polishing them.
Another example of innovative facades with marble can be found in the Mediterranean Health Centre in Almería, Spain. Designed by Ferrer Arquitectos too, it reminds us the Pitagoras Building already described above, for its aesthetics and, especially  for its functionality.
As can be seen in the images, the exterior cladding has mobility, in which its white marble slats serve as thermal and light insulation . Thanks to its functionality, ventilation is allowed and also an extra level of insulation with the interior.
→ Mobile facade with marble slats
Photos by Fundación Marca Macael
→ Boticcino Fiorito Light Marble Facade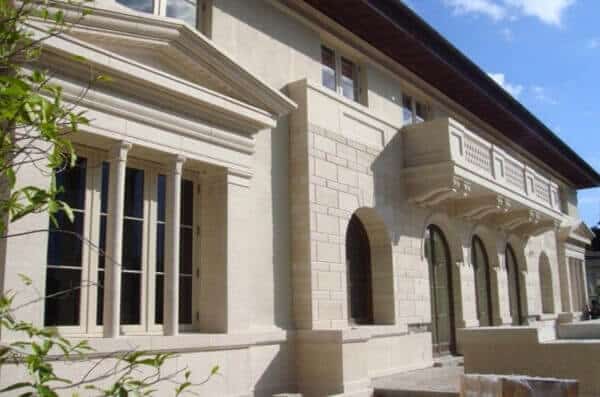 Fachada en Botticino y Fiorito Light Marble Facade. Private Villa, USA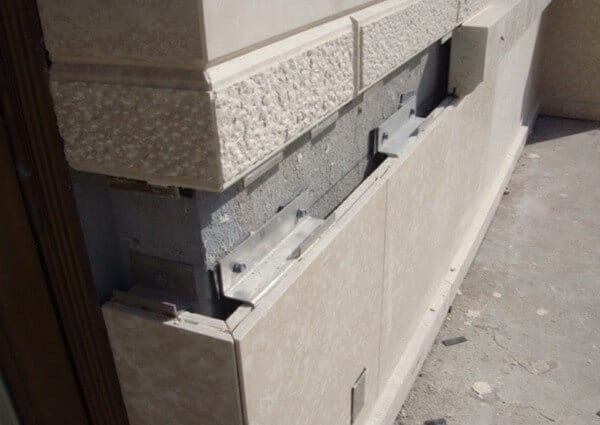 Anchoring detail of the ventilated facade, Private Vila, USA.
All the examples seen so far have in common that Natural Stone covers 100% of the facade.
But in many others cases and mainly associated with more classic styles, it is very common to use stone as a decorative and even as an architectural element.
Here are some examples:
Decorative details with Lumaquela. Main and rear facade. Private Villa, Spain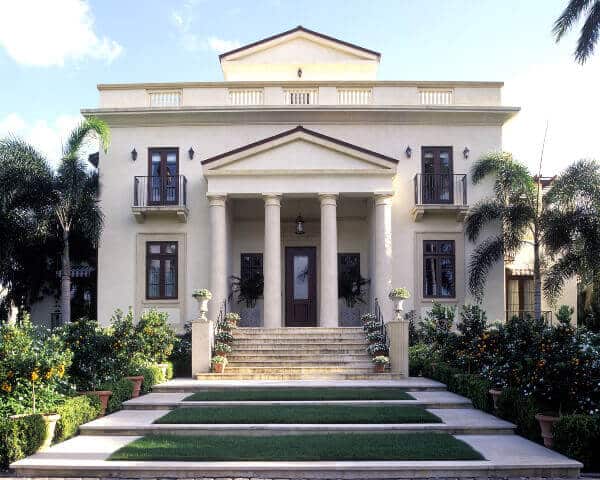 Colums, capitals, cills, window-sills: Limestone. Private Villa, USA
Fortunately, we have an important stone industry in Spain, distributed throughout the peninsula.
The environmental cost, economic, but also cultural are determining factors in many occasions at the time of choosing one material or another.
We cannot go unnoticed for example, that the blanco Macael marble is used especially in the South of Spain, especially in the provinces of Almeria and Granada. Granites are especially used in Galicia, Madrid and the western third of the peninsula, and Crema Marfil is one of the materials par excellence of the Spanish Levant.
Of course, these types of stone like so many others that are extracted in our country are exported to all parts of the World.
Stone formats and finishes for facades of all styles:
The stone industry is characterized by its adaptability to the requirements of Architects and Designers. Although it is a sector made up predominantly of small companies, they are increasingly striving to achieve the "seemingly" impossible.
So it is very common to find more and more formats for all tastes. Elongated, irregular, regular but with a combination of different sizes, large format, etc.
The thicknesses to be used depend on the size of the piece, the most advisable type of installation and, of course, the kind of stone.
With regard to the finishes, the variety is very wide, although it must be borne in mind that not all stones admit all types of textures.
The most common are usually: Honned, polished, just cut, and sandblasted.
In the case of the use of materials with "schistosity" such as slate, phyllite and even quartzite, the most common finishes are usually those that give them the most natural appearance possible.
The most commonly used finishes for granite facades are usually polished, honed and flamed, this latter texture is typical of igneous rocks but not exclusive.
There are many aspects to take into account when installing a Natural Stone Facade, but of course the advantages of this material compared to others such as ceramics, composites or metal coatings, in short, artificial materials, position from our point of view, ornamental rocks over any other artificial material.
We hope that this post will be useful, inspiring or helpful.
In Álbora we have more 15  of experience in both sectors, Stone and Construction in a wide variety of markets. We are experts in the sector and in the execution of turnkey natural stone facades. We are also certified P.M.P. and we have regulated procedures that help us in the management of any project.
We will be delighted to answer your questions and to be of help for your projects if necessary.
If you need help, or have any questions about these or other issues related to natural stone, do not hesitate to contact us.
And of course, please, fell free to leave your comments, recommendations,  concerns, etc.