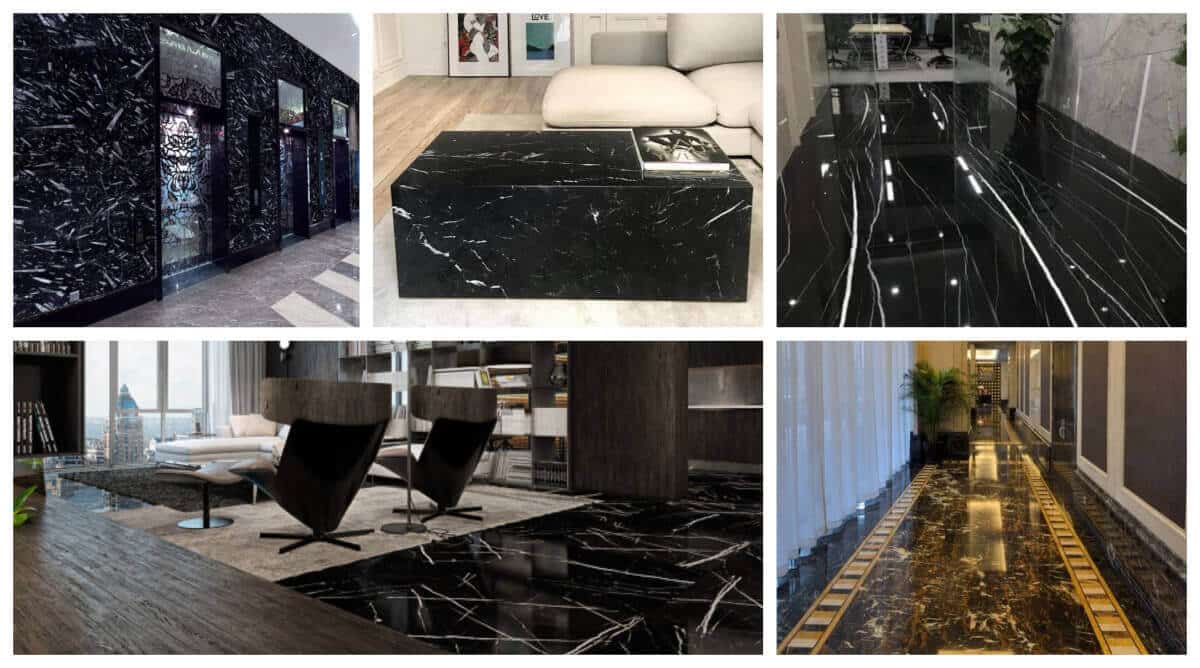 7 Types of Black Marble for Countertops, Floors and Claddings
Black marble is widely used for floors, claddings and countertops, and even as complements for furniture. Of course it is not the only kind of marble used for that kind of applications, however It is undeniable that black marble always gives a touch of elegance and exclusivity to any environment.
There are many types of black marble on the market, the vast majority are black limestones or dolomites (sedimentary rocks) whose surface acquires shine after polishing.
The black colour of this type of stone is mainly explained by its genesis on continental platforms that have received an important volume of sediments with abundant organic matter and carbonate under anoxic conditions. This type of deposits have occurred in several geological stages during the Mesozoic (Cretaceous) and Paleozoic Eras (Devonian-Carboniferous) in different areas all around the World.
Most of the black marble is characterized by a wide variety and presence of fossils (although there are some exceptions as we will see below). The type of fossils will vary depending on the geological period and the paleo-environment in which they were deposited.
We have selected for this post, 7 types of Black Marble from a broad array of black stones. That selection is based on our experience in the Stone sector attending to criteria of demand, the existence of active quarries, aesthetic preferences of the final client and prescriptors (interior designers and architects), technical characteristics and availability in the market.
Hereinafter you will find the different materials and topics described in this post:
1. Marquina Marble or Black Marquina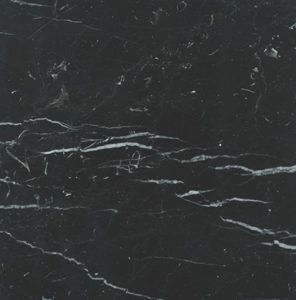 Marquina Marble is possibly the most well known black marble worldwide, due to the intensity and homogeneity of its black background, its characteristic white veins and its high volumen of production.
It is a black reef limestone with fine grain and very typical calcite white veins. It is extracted from the quarries of Markina (Biscay), Spain.
The main characteristics of this stone are:
Fine grain.
With fossils/occasionally.
Dark grey/Black background
White veins of irregular thickness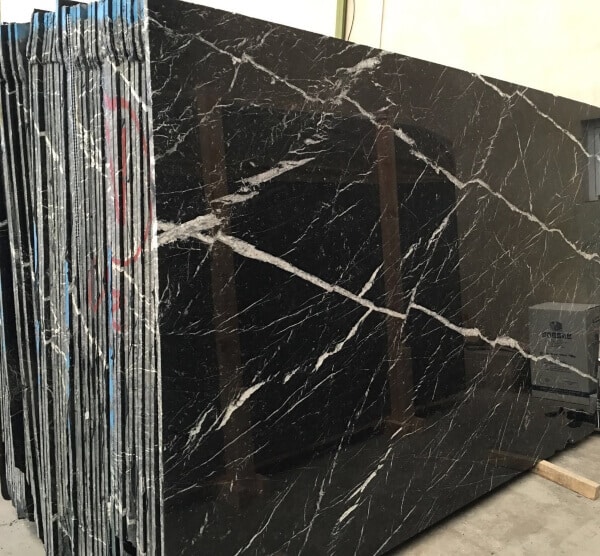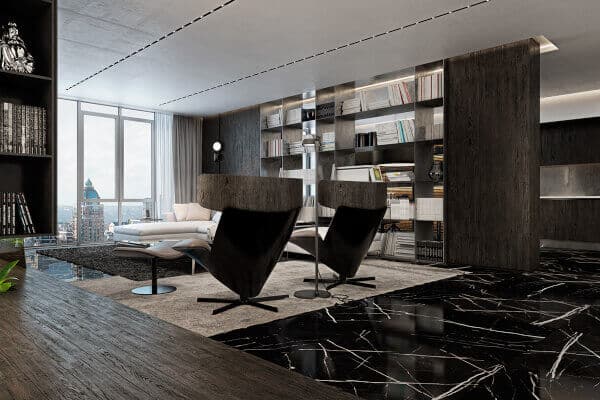 2. Noir Saint Laurent Marble, France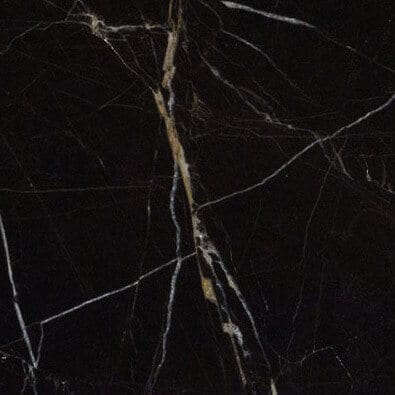 The Noir St Laurent marble is a black limestone of fine grain with golden brown veins and white inlays. It is extracted in Laurens, France since 1885.
From a geological point of view, these limestones are located at the level of a  "klippe"or thrust fault
of the Devonian period of Laurens-Cabrières. The local Devonian materials, almost 100 m thick, are affected by a slight contact metamorphism (low temperature and pressure), which has resulted in a slight compaction of these limestones.
From the petrographic point of view, this "black marble" it is a bioclastic limestone, with a microsparite texture, attributed to the Devonian (Eifelian – Givetian). It is a compact carbonatic material, with light gray to black background barely karstified.
Its mains characteristics are:
Fine grain.
With fossils/occasionally.
Dark grey/Black background
Golden and white irregular veins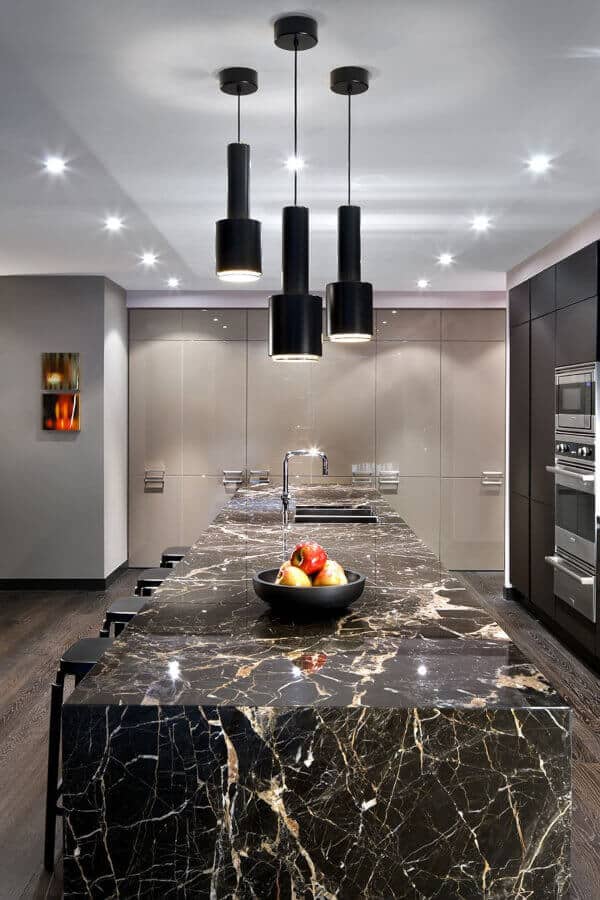 3. Port St Laurent, Morocco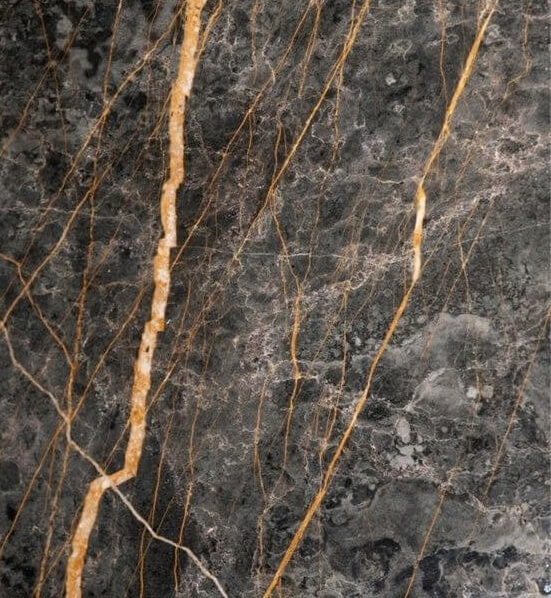 The Nero Port Saint Laurent marble is a brown/dark grey limestone with fine grain and golden calcite veins that shines when polished.
The quarry is located in the area of Agadir-Biougra, it is a Meosozoic material and it is found at the limit between two carbonate platforms of the High Atlas and Anti Atlas
The main characteristics of this marble are:
Fine grain.
With fossils/occasionally.
Dark grey to black background slightly  clearler than the previous ones.
Golden and white veins, much more frequent than the mentioned above
4. Fossil Black, Morocco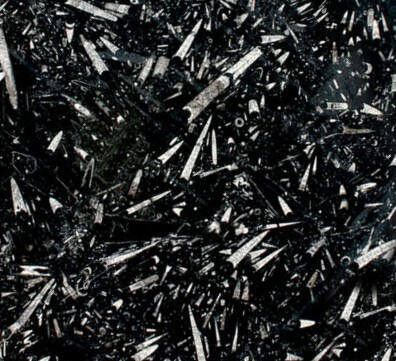 The Fossil Black marble is a black/dark grey limestone of medium/thick grain with a large number of fossils with shell such as the Ammonites Goniatites and Orthoceras, which are located in the Upper Devonian Period.
The quarry from which it is extracted is located in the area of Erfoud, Morocco.
These limestones were deposited during the Devonian period as we have already mentioned. Due to different natural factors, fish, plants and other ancient marine fossils such as ammonites and orthoceras were accumulated in this area under anoxic conditions. Later, these materials would emerged due to different tectonic shifts and the sea withdrawal.
The main characteristics of this type of black marble:
Medium/thick grain
High fossil content: Ammonites and Orthoceras mainly
Dark grey to black matrix or background
Very characteristic white veins and fossils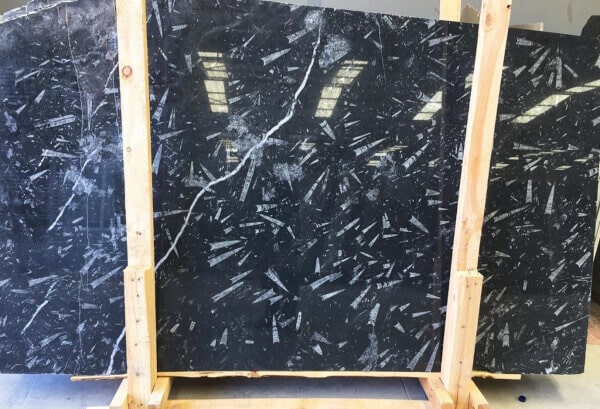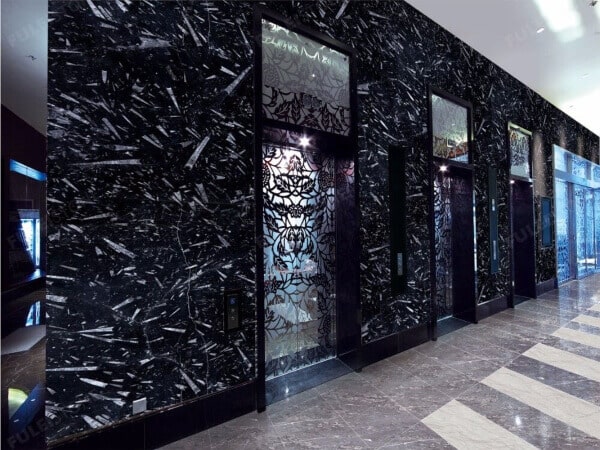 5. Nero Dorato or Sahara Noir Marble, Tunisia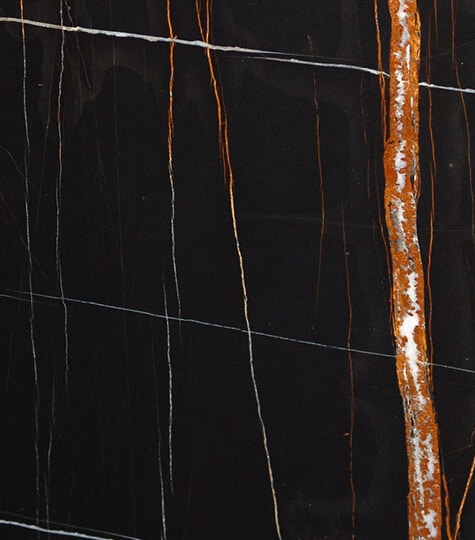 The Black Marble of Tunisia called Nero Dorato is also known as Nero Sahara, Sahara Noir, Black Aziza Marble, Nero Tunisi, Nero Berber, etc

It is located in the Zaghouan area in northeast Tunisia, 60 km south of Tunis.
This stone is a micritic limestone with ooliths and plantonical foraminifera. Its colour range from grey to black with white veins of calcite recrystallization but also brown and golden colors.
The main characteristics of the Nero Dorato marble are:
Fine/ very fine grain
With occasional fossils
Very dark grey to black background
White and/or brown/gold calcite recrystallization veins.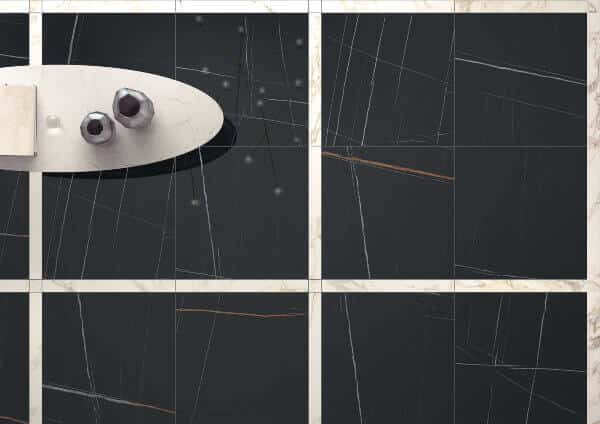 6. Nero Portoro, Italy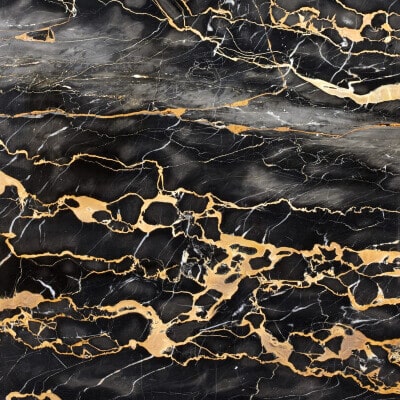 The Nero Portoro is an Italian marble. It's considered one of the most luxurious marble in the world. It has been well know and used from antiquity when it was extracted manually during the 7th and 8th centuries.
It is a black micritic limestone with golden veins containing limonite and sulphides. The composition is mainly of calcite and dolomite as secondary. Its black colour comes from organic matter, bitumen and sulphides deposited in an anaerobic conditions.
The quarries are located on the outskirts of the city of La Spezia, and are geologically framed within the Portovenere limestone formation of the Tuscany foothills belonging to the Upper Triassic – Lower Cretaceous
The main characteristics of the Nero Portoro are:
Fine grain
With occasional fossils
Very intense black background
Very characteristic golden streaks with wavy shape and irregular filling
7. Black and Gold, Pakistan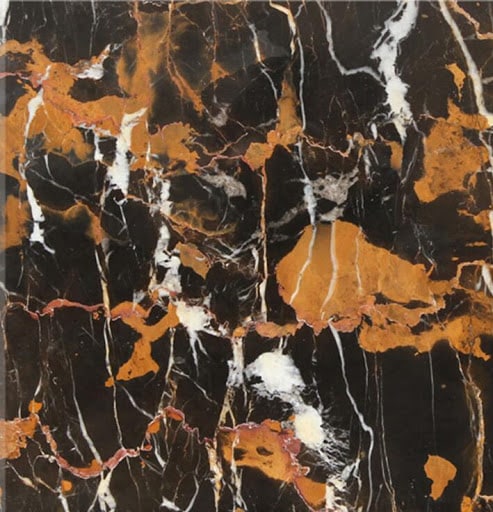 Black & Gold is a black marble found in the mountains of Balochistan, province located in the south-west of Pakistan. In this area are also extracted other natural stones such as Onyx and Granite.
The main characteristics of this marble:
Fine grain
Total absence of fossils, as it's geologically a marble (fossils disappear in the process of metamorphism)
Intense black background
Gold and white veins The white ones are more abundant in inferior qualities.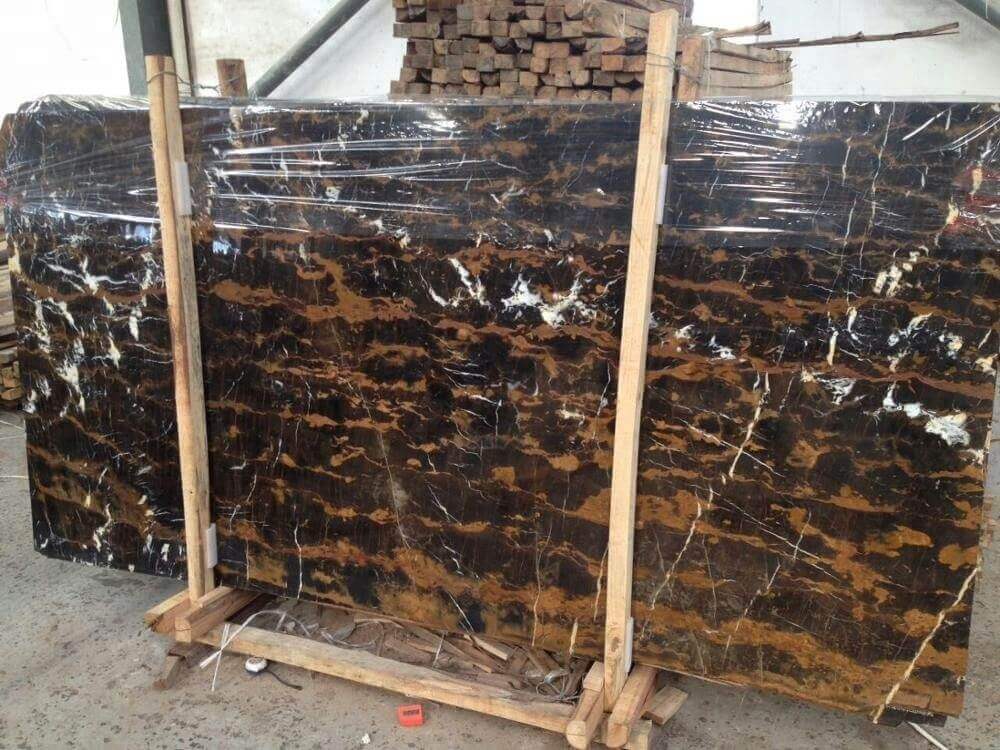 8. Other varieties of Black Marbles
As we mentioned at the beginning, the types of marbles described above are the best known and most demanded worldwide.
Even so, there are many other kinds of Black Marble such as:
Nero Kawala (Greece)
Nero Crete (Greece)
Nero di Ormea (Italy)
Austral Gold (Australia)
Ruivina (Portugal)
Petit Granit (Belgium)
Black Pearl (Turkey)
Black Magic (Turkey)
Portoro Antalya (Turkey)
 we will address the description of these materials in future posts.
9. Black Marble Applications
It's very frequent to see Black Marble recommended for flooring by manufacturers. However we have to point out that black marble is generally softer than white, beige, etc and therefore more susceptible to scratching and erosion by its use. For this reason, it is not recommended to use them in pavements especially in high traffic areas such as commercial areas.
It's used to be combined with other lighter colored marbles, especially with the white ones. Well spread all over the world is the precious black and white checkerboard arrangement. They combine very well with light tones, beiges, cream, light greys, etc. The limits are only set by the imagination. 
10. FINISHES
The main textures for interiors are:
Meanwhile for exteriors textures are:
Sandblasting
Bush-hammered

Black marble has in general low porosity, but the use of Sealers may still be recommended, depending on the type of application and its location. That's why, it must be taken into account that there are sealers that can affect the appearance of the final finish, while water-based penetrating sealers do not. For more information on surface treatments to protect the stone click here.
11. CARE & MAINTENANCE OF BLACK MARBLE
As we have already mentioned, the Black Marbles are limestone and therefore sedimentary rocks, of carbonate composition, whose black colour is usually due to the abundant organic matter. Given their composition, they react with acids. So you have to be especially careful not to use any acidic pH cleaner.
Some manufacturers use dyes or color intensifiers during the resin process, so over time they can lose intensity. To restore the vividness of the color, there are some products on the market that applied from time to time ensure an optimal appearance.
And finally we advise for a suitable final finish and in the case of applying a polished finish, it is preferable to install the material previously polished at the factory, since industrial polishers ensure a level of brightness not equal to the floor polishers on site.
VERY IMPORTANT:
Do not use or pour any type of acid, all cleaners must be PH Neutral.
Do not use abrasive cleaners as dry cleaners
Do not use acidic cleaners such as bath cleaners, sealants or ceramic cleaners
Do not mix bleach and ammonia, this combination creates a toxic and lethal gas.
Summary
Black Marble is quite delicate. This is essential when it comes to installation and maintenance.
The range of black materials available is not as wide as cream, beige or white marbles can be, but they are abundant and varied enough to be able to create any type of design, from the most modern and innovative to the most classic.
Negro Marquina, of Spanish origin is considered as the type of Black Marble with the best quality/price ratio, while the Negro Portoro is much more expensive and is usually associated with very luxurious and predominantly classical rooms and environments.