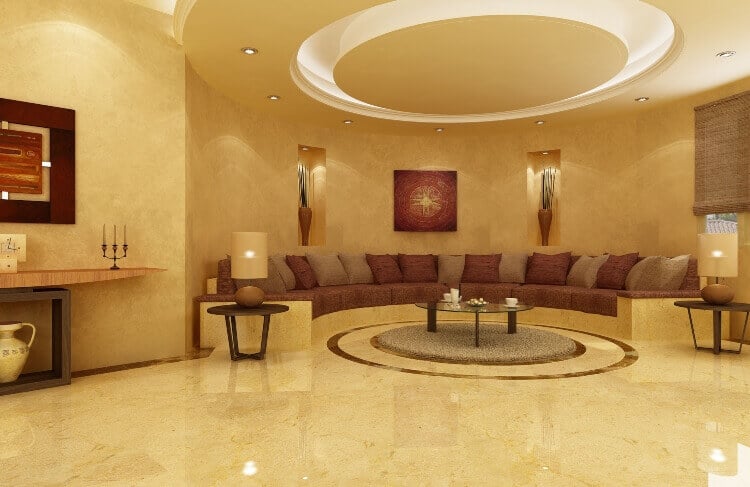 Crema Marfil Marble: Keys to Select the best Slabs and Tiles
Crema Marfil Marble is a sedimentary limestone generated by chemical precipitation of calcite and remains of organisms with carbonated skeleton. With cream-beige colour and ivory tones (as its name suggests), it is very common a wide presence of fossils, generally of small size such as nummulites and corals. It contains small veins of calcareous composition, whose colour can vary between whitish, grayish and reddish (due to Fe content). These veins will be more abundant at lower  qualities.
Currently it is extracted from 20 quarries approximately, in the province of Alicante, distributed by the municipalities of Novelda, Monforte del Cid, Algueña, Elda, La Romana and Pinoso.
Although the name "Crema Marfil" is used for all kind of marble extracted from these locations, the original term comes from the area known as "El Coto", in Pinoso. This exploitation occupies a large mountain with huge reserves, which ensure the extraction of the specifically named "Crema Marfil Coto®" – one of the best known varieties of this marble – for many years.
Levantina is one of the main extractors and suppliers of "Crema Marfil Coto ®" tiles and slabs, but it is not the only one. There are other smaller companies that also extract from Monte Coto
Around 500,000 m3 of Crema Marfil can be extracted annually. This volume generates activity for an important sector of manufacturing factories and sales companies located around, and that have been able to produce huge quantities of this marble and to export it to almost anywhere in the World.
Due to its soft beige tone, that reminds the colour of the desert sands, it is specially appreciated and demanded in The Middle East, particularly in Saudi Arabia, UAE and Qatar.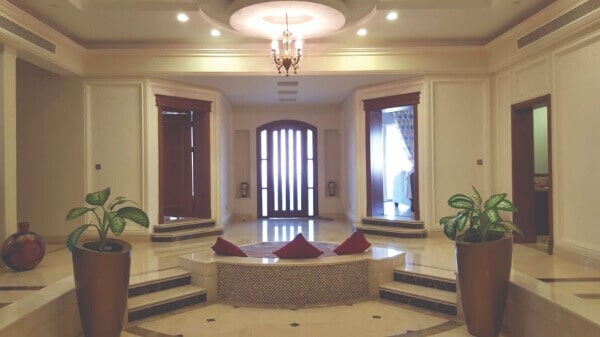 Crema Marfil Floor. Private Villa Entrance in Oman, Persian Gulf. By Albora.
Like any other natural stone, we can find Crema Marfil with a certain variety of appearance, that will depend on:
The quarry location, due to geological reasons – the environmental conditions of the deposit.
The specific area (layers) of extraction within the quarry.
And of course, the grade of selection by qualities.
There are two main factors when deciding one quality or another: Price and the Aesthetic Appearance under this Price.
Even if we opt for lower qualities of slabs or tiles, the quality of the stone from a "technical¹ point of view" will be the same as the higher qualities. The reason:
"Within the Natural Stone Market, the "quality of the marble slabs" it is determined by the Aesthetic Appearance".
"Therefore, the greater selection of marble in factory, the greater colour uniformity, thus, the higher quality of the marble (aesthetic) and vice versa".
(¹) Always request the Physical-Mechanical characteristics of the Material.
Depending on each factory or supplier, we can find the Crema Marfil under different labels. Hereafter we show the most common classification:
Crema Marfil Extra
First Choice
Standard Quality
Commercial
Low Commercial
Here are some examples of Crema Marfil slabs:
It is obvious that as we descend in the classification, the heterogeneity of the rock becomes more evident, as well as the presence of whitish and reddish veins.
The above images are a clear example of how varies the perception of the colour of the material due to the simple fact of doing the photo outdoor or indoor, the brightness (interior or exterior), etc.
Because of these and many other factors, and although it is very common to send photos or videos of blocks or slabs to show the marble, if you still do not know the supplier well, we recommend to visit the factory. Check on-site the Crema Marfil you want to acquire and be sure of the rank/ classification, tone, etc. before closing our deal.
Applications of Crema Marfil Marble
The shade of this marble makes it very suitable for interiors, given the warmth and serenity that it transmits, in contrast with the freshness that natural stone transfers to any space.
In recent times, Crema Marfil has become one of the most requested marbles worldwide, for both, classic and contemporary environments.
It is definitely, one of the most versatile marble that exists, suitable therefore for any room and atmospheres (classic or contemporary). It is specially used as flooring in living rooms, bedrooms and common areas. But it is also perfect even for kitchens and bathrooms as flooring and cladding. However in those places, we would recommend to apply a Sealer.
Equally suitable outdoor, the main recommendation is to avoid the polished and honed finishes. In case of using it as paving to prevent slips. For claddings, due to the unavoidable loss of gloss as a result of the weather and pollution.
Crema Marfil Marble Textures/Finishes
Given Crema Marfil Marble is widely used especially indoors, the polished finished is one of the most demanded. In addition, this stone, in spite of not being a marble properly (it is a sedimentary rock and not metamorphic), after polishing acquires a remarkable brightness that enhances the beauty and tonality of it.
Other also highly demanded finishes of Crema Marfil Marble are: honed, aged, sandblasted and bush-hammered.
Given the hardness and resistance of this marble (marmoreal limestone, from a geological point of view) it is also suitable for handicraft. Crema Marfil admits extraordinary engravings and creative textures as in the hereafter examples:
Mural Engraved in Crema Marfil. Private Villa Jumeirah Palm, Dubai. UAE Made by Albora
Care and Maintenance of Crema Marfil
As we have already mentioned, this Marble is a carbonated rock and therefore reacts with acids. (One way to recognize this type of stone is by pouring a few drops of hydrochloric acid, if effervescence occurs, this indicates reaction with the acid and therefore it is a limestone).
This reaction occurs with any acid. So lemon, vinegar or any other product of acid pH, will end up affecting our tiles or tops (stains, loss of brightness, alteration of colour, etc.).
Taking into account its composition, for cleaning, we recommend the use of warm water, that removes better the dirt. You can also add neutral pH soap. It is preferable not to soak the soil, to prevent moisture penetration. Drain the mop very well or dry the floor afterwards to eliminate excess moisture.
Application of hydrophobic/oleophobic treatments will prevent any kind of liquid from penetrating (liquids and oils). However, given the low porosity of Crema Marfil, we will only insist on the application of Sealers in kitchens and bathrooms because they are more prone to the accumulation of moisture or to the spillage of liquids/products that may end up staining or altering the stone.
Summary about Crema Marfil:
This Marble has become a major indoor decorative option for its beauty, warmth and harmony.
It is an affordable natural stone. Its price will obviously vary depending on the volume to acquire, and the quality chosen.
The quality of the material is measured in aesthetic terms, since at a "technical point of view", all classifications behave very similarly (of course if the material does not show evident cracks, that become planes of weakness of the stone). Even so, always ask for a certificate of physical-mechanical characteristics, and verify that the marble complies with properties appropriate to the location and use that you desire.
Crema Marfil is a natural stone and as such, each piece is unique. The "higher the selection, the greater the uniformity and shade, and obviously, the price".
A visual inspection prior to the acquisition will be the best way to ensure the appearance and possible variability of the marble. Please, request a mock-up on site -1.00- 2.00 m2, or in  factory, and be sure about the final look of your installation.
Although it is more known the Crema Marfil Coto®, there are other quarries where is extracted Crema Marfil but with other "surnames", such as Crema Marfil Peña Zafra, Albanilla, etc. With a general similar appearance, "each variety has its unique characteristics according to exploitation layer and geological reasons".
The price can vary a lot from one supplier to another and from differente varieties, so it is desirable to ask several budgets before deciding for a certain type and quality.
If you do not have any experience with this stone, you can always count on the support of independent consultants experts in natural stone, that will facilitate the work selecting suppliers, choosing the variety or marble and the best quality for our project, etc. And of course, attending to the requirements of a pre-established budget.
In any case, request physical samples as representative as possible.
"The Crema Marfil World" is very broad. We hope to have been helpful with this post to professionals and private users.
In case of doubt, for additional information or advice, we will be happy to help you. Do not hesitate to leave your comments and opinions. You can also contact us thorough our social network.
Clicking here you will find also our contact details.